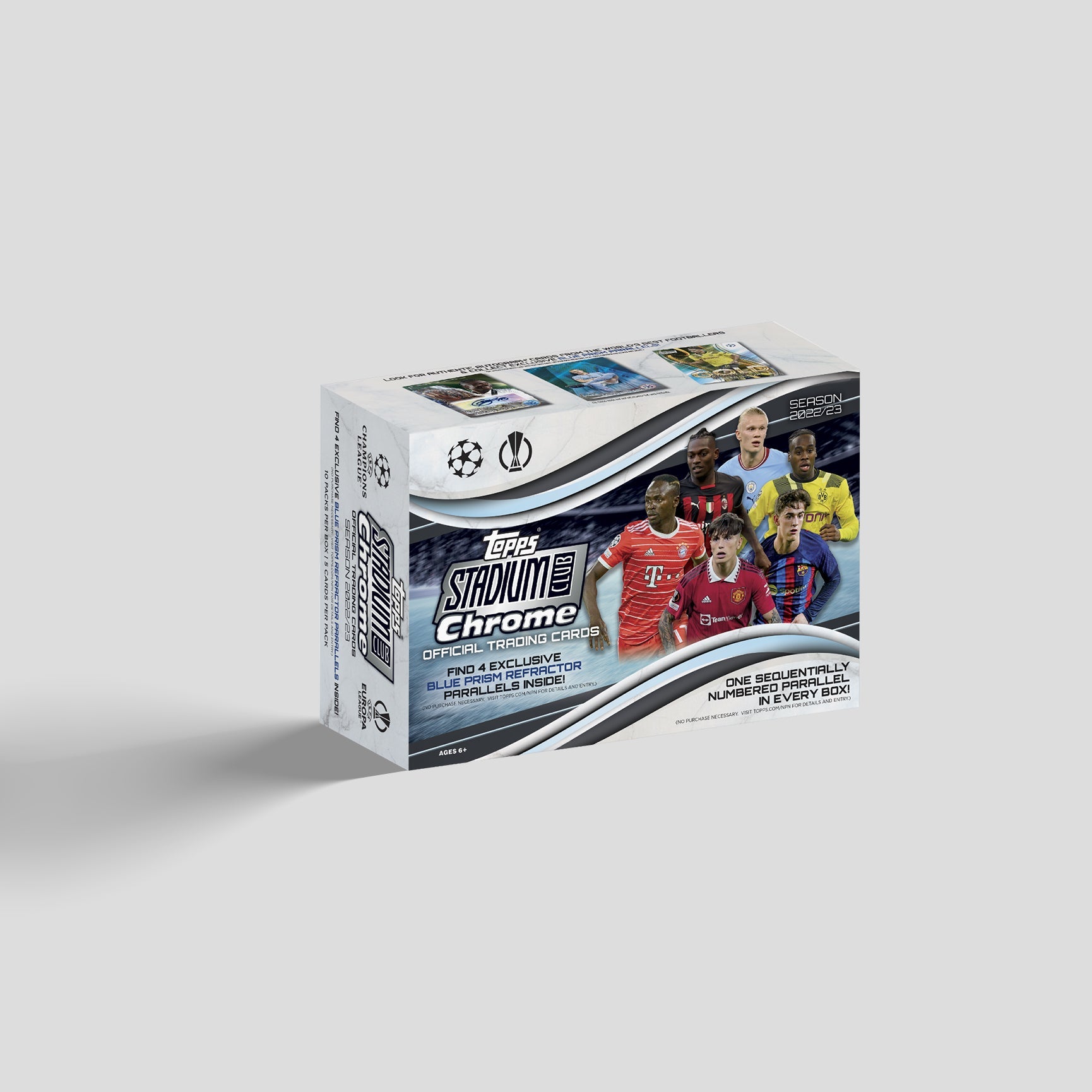 2022-23 Topps Stadium Club Mega Giant Soccer Box
*Max 3 per customer - Discounts don't apply
---
4 Blue Prism Parallels per Giant Box! One sequentially numbered parallel per box, on average.
5 cards par pack - 10 packs per box

The highly anticipated Stadium Club Chrome® set returns for the 2022/23 season!

Collect jaw-dropping imagery of the biggest stars, legends and rookies of the UEFA Champions League & UEFA Europa League on Topps' iconic Chrome® technology!

Enjoy a rich 100-card base set with a full Chrome® raindbow of parallels, including exclusive Blue Prism and Neon Green X-Fractor parallels found only in Giant Boxes! Search for autographs of top ballers, including a Stadium Club classic in Cosigners Autographs, featuring iconic pairings for the first time in the product's history.

Classic inserts return with Champsionship Contributions and Glimpses of Gold, as well as brand-new inserts Goal Force and Legends of Europe. Also keep an eye out for rare Members Only image variations of the game's top rookies!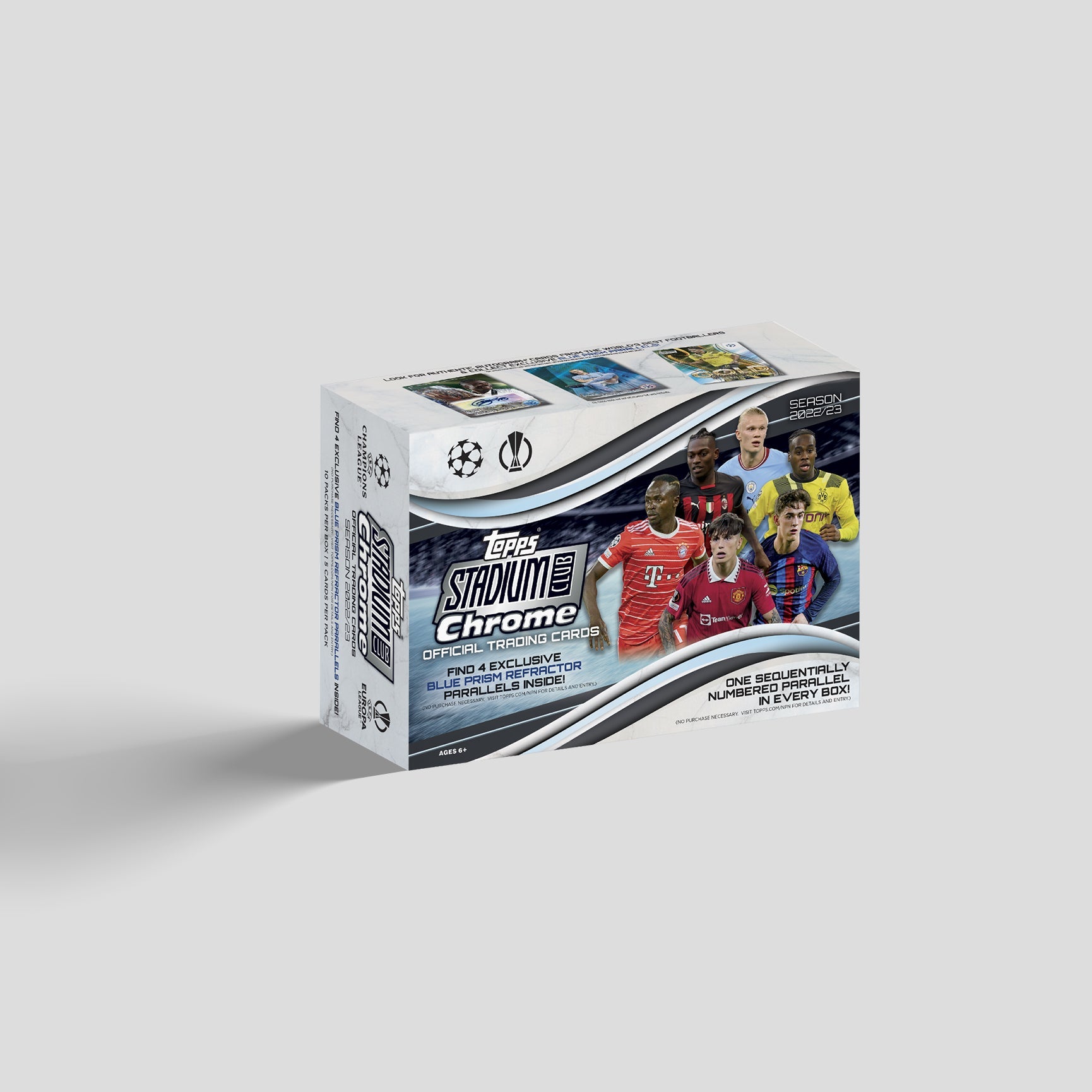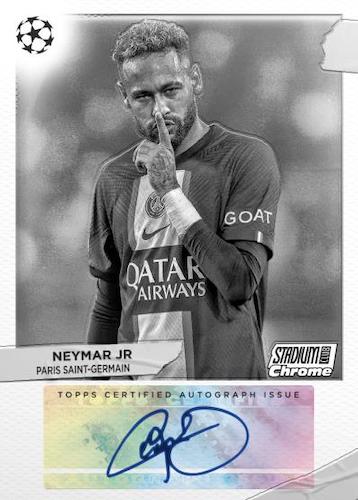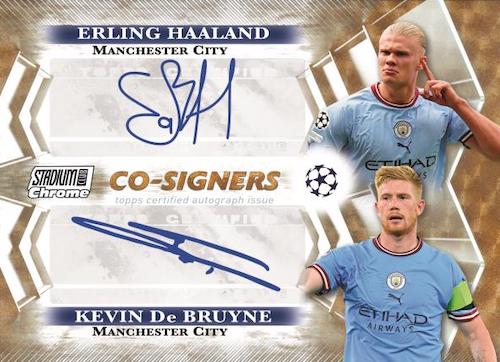 What are we chasing?
Playing up the photography angle, Behind the Lens Autographs is new, offering Photo Negative Refractor(#/25), Black & White Refractor(#/10) and Dark Room(#/5) editions.
Cosigners
Showcasing a pair of autographs, the popular Co-Signers set makes its brand debut.

Lastly, the limited Members Only Rookie Image Variation Autographs (#'d) cards have only base versions and the one-of-one SuperFractor.
New Inserts
The returning sets consist of Beam Team(1:24o packs),Championship Contributions(1:10 packs) and Glimpses of Gold(1:5 packs).

New options include Goal Force(1:5 packs) and Legends of Europe(1:20 packs).
Topps also teased "The Grail Awaits," which confirms the continuation ofThe Grailinserts set from previous '22-23 sets.